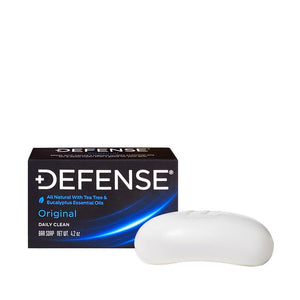 Defense Soap Bar
Regular price
€7.95
€0.00
The ultimate in natural hygiene... these soothing bars are packed full of 100% natural essential oils known to have antimicrobial properties. The unique blend of these essential oils have been shown to destroy harmful bacteria, fungus and viruses in a matter of minutes. In doing so, Defense Soap™ leaves behind enough healthy skin bacteria to allow the skin flora to re-colonize fast. All of our soaps and bath products are manufactured with only the highest quality 100% natural Tea Tree and Eucalyptus oil. Defense Soap™ is suitable for even the most sensitive skin.
---
Share this Product
Never get
I never recieved my package.
Very good
Very good product for gym and contact sport. I highly recommend it. Especially the soap bar as it stays and more efficient
Amazing product
Amazing product, see effects within a hand full of days. Would recommend 10/10 even if you don't do combat sports
Good soap after BJJ Training
Feels fresh and clean after use!
Fast delivery all organic
Can't say much after 19 days but fast delivery, love the ingredients! and i have the feeling after using the soap my skin is really clean (but a little bit dry). Definitely buying defense soap again
---
More from this collection