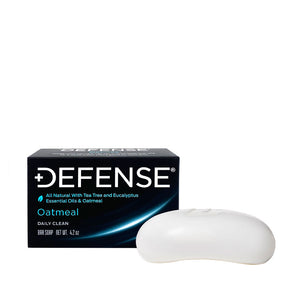 Defense Natural Oatmeal Bar
Regular price
€7.95
€0.00
Defense Natural Oatmeal Bar provides numerous benefits that promote healthy skin - from deep cleansing to soothing relief for dry skin.
Check out the four ways Defense Natural Oatmeal Bar will support healthier skin for you and your family.
Unparalleled Skin Cleanser
The oatmeal in our soap contains saponins which are natural cleansing agents. They help remove excess sebum, dirt, dead skin cells, and grime from deep within the skin's pores.

Excellent Exfoliant 
The oatmeal in our soap has a slight texture which helps with exfoliating the skin and removing dead skin cells. Defense Natural Oatmeal Bars are gentle enough for all skin types.
Hydrates the Skin
Oatmeal is a great skin moisturizer. It is rich in fatty acids and contains polysaccharides each of which provides hydrating benefits.

Soothes Irritated Skin
People have known about the skin-soothing powers of oatmeal for centuries. Locking in moisture, it protects the skin and relieves any irritation or itching.

Directions for use: Lather into hands or washcloth. Allow the lather to remain on your skin for a few moments before rinsing. For best results, use twice a day.
---
Share this Product
Leaves my skin dry and flaky
I bought the soap as a preventative measure; I used it only on gym days. I stopped using it because my skin (including my scalp) was really dry. I stopped using it and everything went back to normal. I have three other unused bars that I see no use for.
1. The soap does leave you feeling clean right as a shower.
2. It could be that my skin is sensitive to these soaps but I am leaning towards No. These soap might be removing to much from the skin.
3. Does the soap work? I have no idea.
Defense Natural Oatmeal Bar
Defense Natural Oatmeal Bar
Great face soap - has replaced my tried and trusted Dove Sensitive bar. Clean/green product, clears skin while moisturizing, can tell the bar will last a long time. Good service. Will buy again (when it runs out!).
---
More from this collection