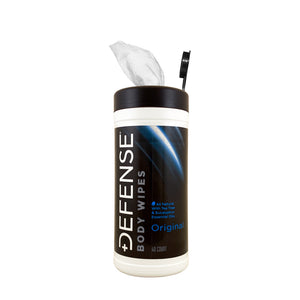 Defense Body Wipes
Regular price
€11.95
€0.00
Defense Body Wipes contain the same 100% natural disease fighting essential oils as our soap and gel. The body wipes are an excellent choice for combat athletes when showering is not possible for at least two hours. Whether it's in between matches, during practices, or just to wipe down equipment. Another plus, it smells nice. Defense Body Wipes are the perfect way to keep your skin healthy while on the go. Each container holds 40 wipes.

the ingredients contain: 1% Australian Tea Tree Oil and 1% Eucalyptus Oil.

Does not contain petrochemical compounds, triclosan or sodium lauryl sulfate. 
---
Share this Product
Great but ...
The wipes are fine but there is something in the design of the container or lid that is sub par. I can not pull one wipe at a time from the lid opening. I have to pull the whole lid off and grab a wipe from the roll by hand.
---
More from this collection