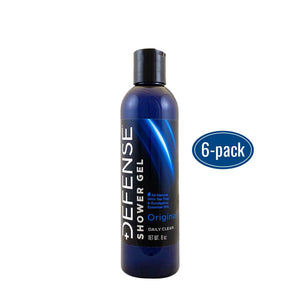 Defense Shower Gel 6 pack
Regular price
€51.50
€0.00
Do you prefer shower gels to bar soaps? If so the Defense Shower Gel is perfect for you.
Defense Shower Gel was created specifically for combat athletes and anyone interested in using our all-natural soap to keep their skin clean. Made with natural botanicals and only the finest natural essential oils, these products will keep you clean on and off the mat.
Defense Shower Gel (240ml a bottle) 6-pack
Washing your skin regularly and repeatedly with normal soap is going to disrupt your normal skin flora. Your skin is crawling with bacteria in case you did not know, this is normal and healthy. when you disrupt these skin bacteria too often, it can lead to some nasty infections.
Defense Shower Gel is made out of all organic products. The liquid soap is formulated in the same fashion as our Defense Soap Bar. We infuse the finest natural disease fighting essential oils in a high quality gel to gently cleanse, protect and nourish the skin. 
The unique blend of the essential oils used in Defense Shower Gel have been shown to destroy harmful bacteria, fungus and viruses in a matter of minutes. In doing so, Defense Soap™ leaves behind enough healthy skin bacteria to allow the skin flora to re-colonize fast.  All of our soaps and bath products are manufactured with only the highest quality 100% natural Tea Tree and Eucalyptus oil. Defense Soap™ is suitable for even the most sensitive skin.
---
Share this Product
Best showet gel I've ever tried
Fab Products
Shower gel amazing, salve gel love it.
Defense Shower Gel 6 pack
---
More from this collection